A visit to the savage Jardim Botanico, Rio de Janeiro
A visit to the savage Jardim Botanico, Rio de Janeiro
If you plan to visit the botanical gardens in Rio, and if you get hungry easily like me, bring food! Jardim Botanico is a rather enjoyable slow walk for 2 hours or more. Although what surprises me most is that it is a mix of a pruned garden and wild forest.
Firstly, a practical guide to get there. Bus 125 takes you from Copacabana beach to Jardim Botanico. The entry is R5 and you'll be given a map of the garden and notable sights. Or just jump onto any bus and ask if they go to Jardim Botanico (like we mentioned in the earlier post).
When you enter the garden, you'll come upon a broad walkway flanked by 2 rows of palm trees on either sides of the road. At the end of the road is a fountain that adds to the whole majestic feel in the walk. Personally, that was the most impressive part of the park.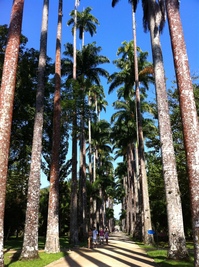 A visit to the savage Jardim Botanico, Rio de Janeiro
---
A small surprise was the collection of orchids. Here, orchids that are like dancing ladies, starfishes, black widow spider decorated the small greenhouse. The map of the garden will say there is a rose garden. And literally, it is A Single Rose garden. Don't pin your hopes on finding a sweet smelling bed of roses.
Quite interestingly, there is a savage side of Jardim Botanico much like Rio de Janeiro. At the back of paved walkways, japanese modelled garden, orderly planted trees, there is a trail that leads into the side of what seems like a small forest. It's not accessible for further exploration and as if to prevent you from discovering its nature, a family of monkeys watch you suspiciously.
At the end of the trail, you can catch a glimpse of Cristo far away if it's a clear sky day.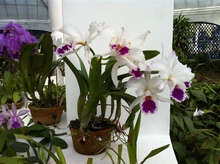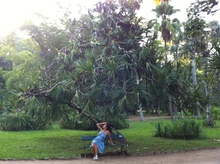 Take the carpark exit and you will find a small pond full or turtles. There is something very soothing and funny about observing turtles. I guess it's their complete lack of urgency and ability to be still for a long long time. A reminder of the relativity of time. We really don't have to rush, especially when travelling.
About Jas Chong
| | |
| --- | --- |
| | Jas is a guest blogger here, and also happens to be a great cook. |