Arrested in Ecuador
So then.
What happened to me exactly? How did I end up in prison?
Simple.
I overstayed my visa.
Did I want to overstay my visa?
No.
I tried twice to renew my visa. First I went to Peru for a week and on returning the border official told me he couldn't issue me a new tourist visa, but I could enter with the remaining three days of my old visa and go to the ministry and get an extension.
My girlfriend and I went directly to the ministry and we were told that actually "you need 30 days to apply for a new visa", but "Don't worry. If you overstay there's no fine, and you can't get arrested".
They were half right.
There was no fine.
Arrested in Ecuador
---
For the following six months my girlfriend and I spent nearly every day together traveling, swimming, studying, dancing and of course, waking up wrapped around each other. In that time I was asked to show my documents three times.
The first time the police officer either couldn't read or couldn't care. The second time, after being berated severely the policeman said he could resolve the problem with a little "cariñito" of $100 cash. I was only carrying $15 which he eventually accepted although it was "hardly enough for KFC for him and his friends".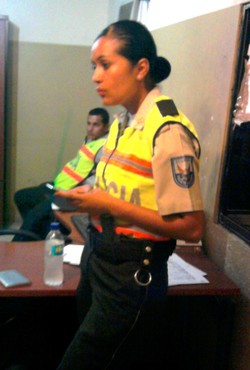 Arrest tourist, post to Facebook.
But the third time, on the weekend before I had planned to leave Ecuador (May 24), two bored police officers requested my documents at the bus station. Soon two became four, then six, then all of a sudden there were like eight police officers studying my passport.
In the back of my mind I wondered where they had all been when my girlfriend's backpack was stolen from the very same bus station, or when her handbag was slashed on the metro and her blackberry stolen, or when my credit card was swiped, cloned and used to withdraw over $2000 from my account.
But finally they had caught someone!
A travel blogger who overstayed to be with his girl.
A real criminal!
So they threw me in prison with no legal advice and no access to a telephone.
I passed my time with Ecuador's finest drug traffickers, thieves, alcoholics, a handful of foreigners who were waiting to be deported and a lot of mosquitoes. We slept on concrete bunks and ate from a bucket three times a day.
Or more accurately, I looked at my food three times a day and threw it out before the next meal.
My cell mate occupied himself chain smoking and trying to recruit me to traffic drugs to Sydney. When I finally convinced him I wasn't interested he started bragging about the 22yr old Dutch girl who got eight years in prison for carrying his product.
Then he tried to convert me to Christianity.
He wasn't all bad though, and helped me call my girlfriend using a smuggled cell phone pressed up against the bathroom wall in the only spot in the compound that had cell signal.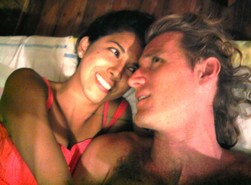 Like I said. Amazing.
She was amazing.
Even though she's in her final year studying Medicine, she skipped a whole week of her course to visit me, race around town organising documents and call friends and family for advice. Pretty soon she found a cousin who explained that all we had to do was pay the "multa" and I could leave given that we have a de facto relationship.
Phew!
So she gave him $100 for the multa and we waited.
Several days.
She called him.
No answer.
I tried to stay positive, but with nothing to do all day but stare at the wall, anger begins to fester. My cell mates passed their time playing cards, trading drug trafficking tips and calling for the doctor feigning to be dead. (Until one day, one of the prisoners really did nearly die. His stomach and gut was grossly inflamed, he was shaking uncontrollably, having bladder control problems and wailing inhumanely. So they took him to hospital... Good thinking.)
After five days of silence from my girlfriend's cousin, she went herself to the police intendant to find out what was going on.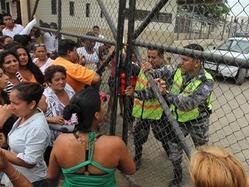 Let him out! We like his hair!
There was no "multa". Her cousin had made it all up and forged my signature on one of my legal documents just to cheat us out of a hundred bucks.
Finally, the police staff explained to my girlfriend that I would need a lawyer to represent me and request an audience with the head of police who would decide if I could stay or not.
She searched frantically, in tears, for a lawyer and eventually found someone who could help us for the "special" price of $2000 cash ($1000 if you aren't crying, $500 if you're Peruvian).
We drained my credit card, borrowed money from her aunt, paid and waited.
And waited.
Meanwhile, a lawyer whose visa was revoked was put in prison with us and started entertaining us by reading sections of the Constitution of Ecuador. Like section 3a, article 89 which translates roughly to "the prisoner must be deported or allowed to stay within 48hrs of being arrested".
What a laugh. Some of the inmates had been there months waiting deportation.
We were all being detained illegally.
Not that anyone cared.
Then finally I was piled into a police ute overflowing with people and clung to edge as we were driven for audience.
My lawyer wasn't there.
Two hours later, as they called me in to audience, she arrived in flurry, took me aside and whispered the "details" of my defense. My girlfriend was pregnant, I had dengue fever for three months, a urinal infection and blah blah blah.
I still can't believe I paid her $2000 to make up a bunch of lies.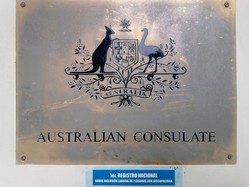 But the Australian Consul who had heard about my case started using his weight wherever he could and a week after my lawyer's creative defense, after a total of 13 days in prison, I was let out.
The Australian Consul helped me a lot. I met with him frequently and also the Australian Ambassador stationed in Chile after I was released. They were both always supporting me and it made an enormous difference.
Thanks guys!
About Roger Keays
| | |
| --- | --- |
| | Roger Keays is an artist, an engineer, and a student of life. He has no fixed address and has left footprints on 40-something different countries around the world. Roger is addicted to surfing. His other interests are music, psychology, languages, the proper use of semicolons, and finding good food. |