Morocco Travel Photos
Travelling in Morocco was fairly stressful. As in most poor countries, everyone wants to get their hands on a piece of your cash one way or another. But unlike other poor countries, there wasn't much upside. Transport and accommodation was overpriced; the food was disappointing; and the culture not especially colourful.
Nevertheless, it never hurts to check out a different part of the world. I spent three months there, mostly to escape the European winter, and also to put a dent in my overflowing queue of work. There weren't too many distractions, so that turned out to be quite effective.
Here is a selection of photos from my travel in Morocco. Enjoy.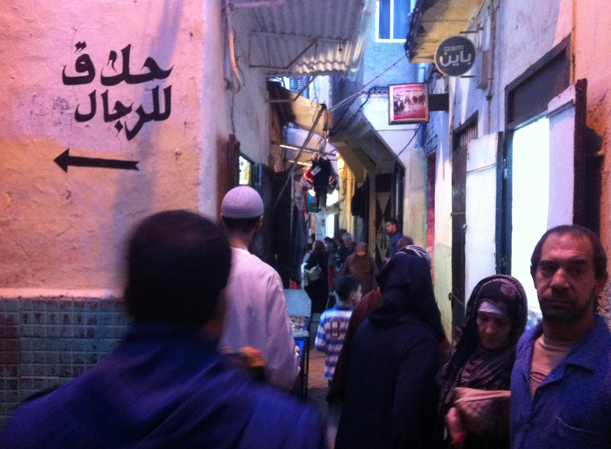 In the Old Town, Tanger.
Tanger is a port city in the north of Morocco. The straight of Gibraltar separates Tanger from Tarifa and Algeciras in Spain. The city itself is pretty neglected. If you visit Tanger, it will probably be to get the ferry to or from Spain. This is not a place you really want to stay unless you have to. The old town is okay, but there are a lot of aggressive touts who are quite practised at harrassing tourists.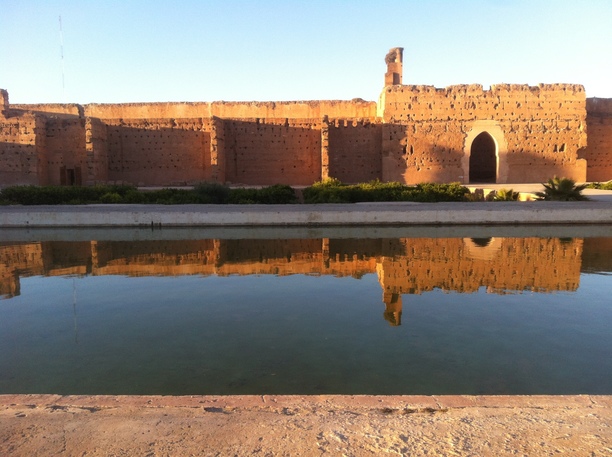 Palais De La Bahia, Marrakesh.
Marrakesh is roughly in the center of Morocco. It's probably the number one tourist destination, and there are plenty of hotels and tourist markets inside the medina (old town). This photo is one of the old palaces which was constructed in the 19th century. I took this photo because the walls are so typical. Moroccans love their walls. They don't show up on Google Maps either, and we ended up taking some looong detours around one wall or another.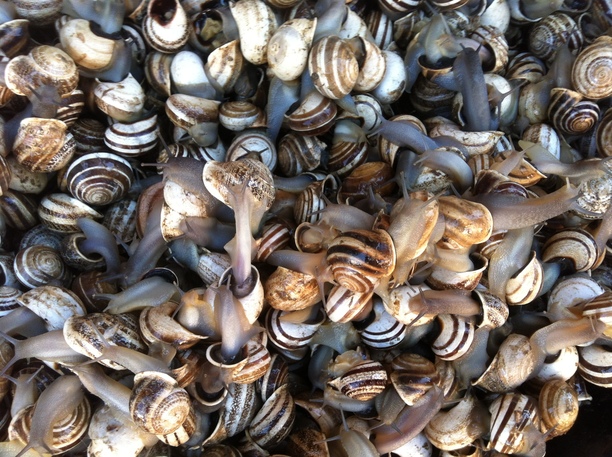 Live Snails For Sale, Marrakesh
As well as being able to buy escargot in Marrakesh, you can also buy the raw product. Live snails. At first I thought the whole escargot thing was just for tourists, but a few weeks later I saw locals queuing up to buy it in Essaouira. I can't say I was tempted.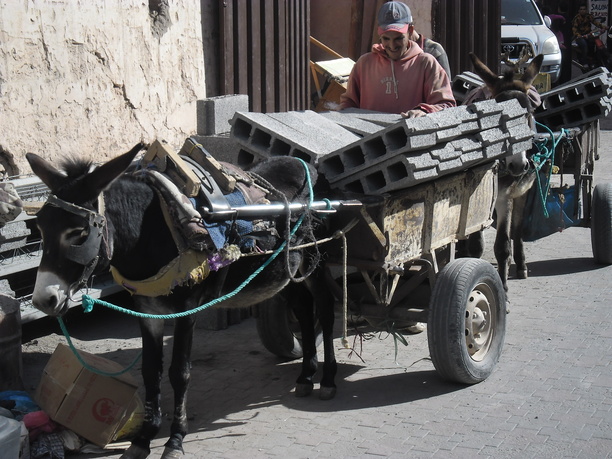 Donkey Working, Marrakesh
Just something you don't see too often in the West.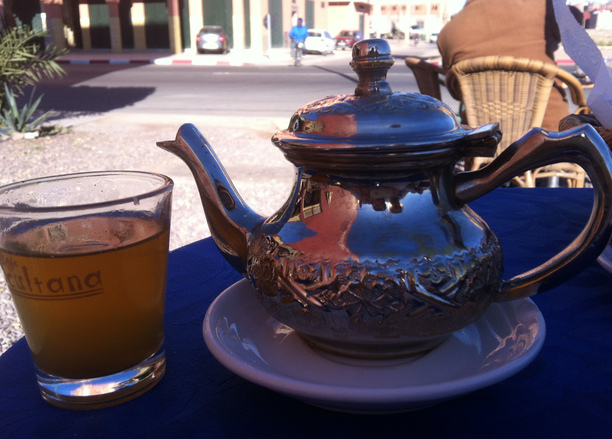 Moroccan Tea
As far as I could tell, Moroccans don't eat. They just drink tea. Although the menus were very tempting, it seemed like everywhere we went the only available item was tea. Eventually we learnt that the way to eat in Morocco was to by a boiled egg from the corner store, shove it in some bread and eat it there while you chat with the shop owner. But apart from that, people seemed to get by just fine sitting in cafes, smoking, and drinking tea.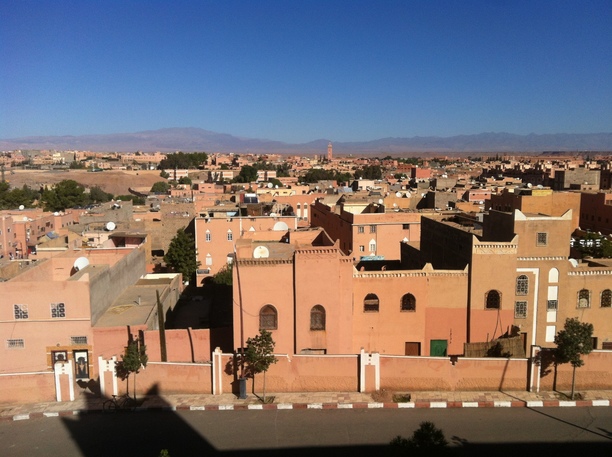 Red Buildings, Ouarzazate
This place is seriously in the middle of nowhere. We ended up here on our way out to the desert and opted to break up the 12-hour bus journey by staying the night. Ironically, it was probably my favourite place in Morocco. There were no touts and people just left us to do our own thing. It was a nice change just to see normal people doing normal things. Plus we found some decent food here: couscous, vege sandwiches, and avocado shakes.
Desert Camel, Merzouga
Merzouga is near the Algerian border on the edge of the Saraha desert. It attracts the tourists because of the camel rides you can do through the desert. Sights like this one of camels tied up didn't inspire us much though. It would have been great to see some wild camels, but ones in captivity? I don't know.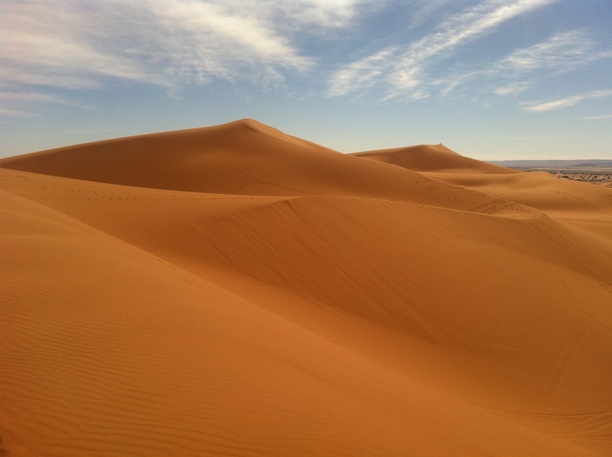 The Big Red, Merzouga
This is the desert around Merzouga. It's pretty cool, although it isn't as big as the tour guides would have you believe. Seda and I hiked through a good portion of it in a couple of hours. From the highest dune you can see the edge of the sand in most directions. The camel rides are set up to make it seem more epic than it really is. Much more fun to hire a motorbike and bash the dunes.
Police in Agadir
My iPhone was stolen in Agadir. I had only said to Seda that morning "Maybe it's like India, where they don't steal your stuff," and then decided to wear shorts instead of jeans. An hour later I was robbed getting onto the bus. The thief slipped off the bus and into the crowd before we had time to react. This is the only photo I have of Agadir, because the rest were on my iPhone.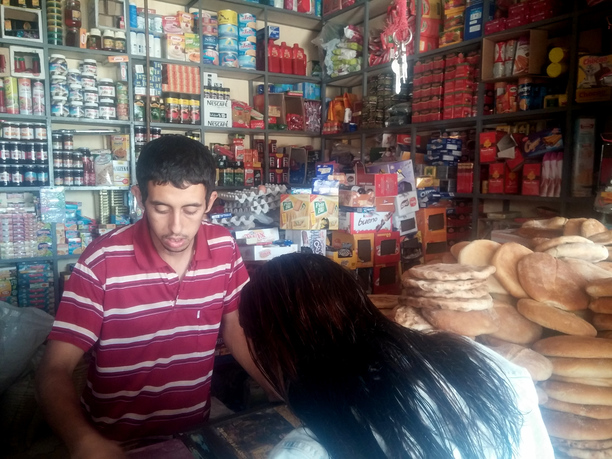 Moroccan Store, Taghazout
Remember what I said about grabbing a hard boiled egg for lunch? This is where you buy them. That's Seda inspecting the produce.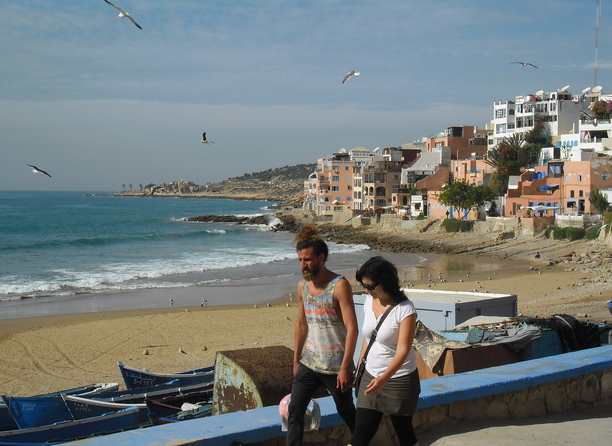 Fishing Bay, Taghazout
Taghazout is a tiny fishing and surfing town on the west coast. The beaches here are really beautiful, although the surf was pretty small when we where there. Board and wetsuit hire was about $8 for a session, which is much better than the $20-30 they were asking for further north in Essaouira. Bargaining is required to get a decent deal on accommodation.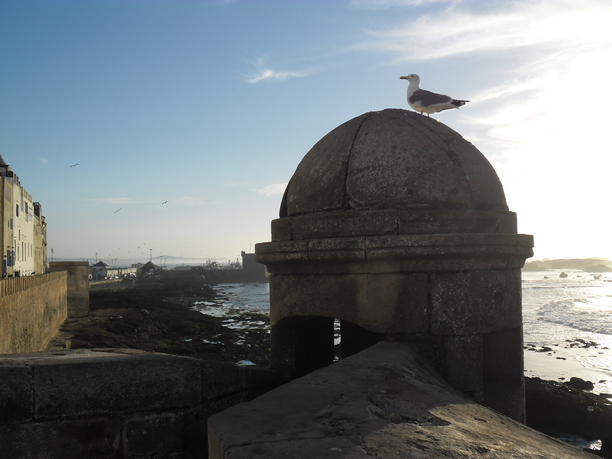 Essaouira
Essaouira is on the coast, north of Taghazout and due west of Marrakesh. The people here are more used to tourists, so it's a bit more pleasant than Marrakesh. The have loads of markets to wander through inside the medina walls. There's also a beach. All in all, it's not bad.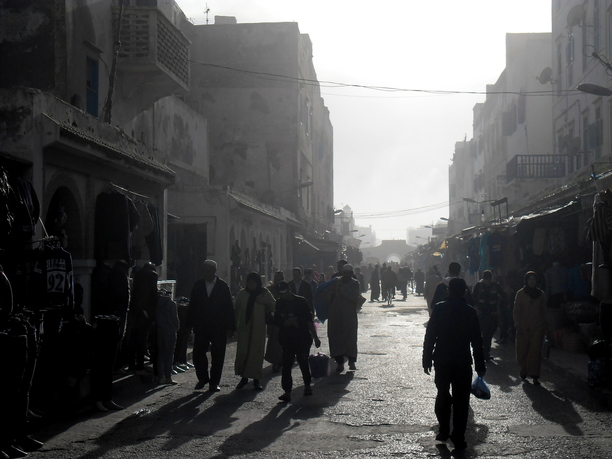 Essaouria Medina
Inside the medina there's plenty of locals and local stores. Lots of markets selling carpets and pointless handmade stuff that girls like to buy for the house.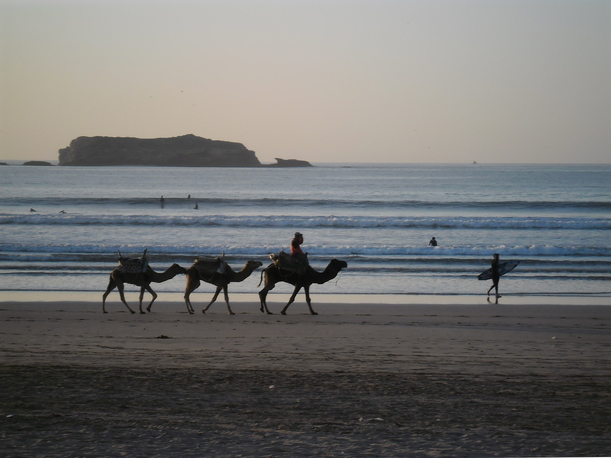 Surf in Essaouira
The windy beach in Essaouira sometimes produces good waves. Since it's a beach break, it's not as good as Taghazout or the other breaks further south, but the advantage is there are more facilities in Essaouira like restaurants and ATMs.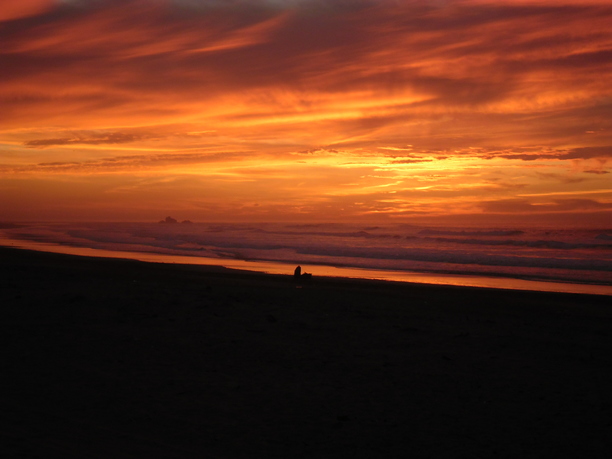 Sunset in Essaouira
Morocco Travel Photos
About Roger Keays
| | |
| --- | --- |
| | Roger Keays is an artist, an engineer, and a student of life. He has no fixed address and has left footprints on 40-something different countries around the world. Roger is addicted to surfing. His other interests are music, psychology, languages, the proper use of semicolons, and finding good food. |