MRTG Email Notifications And Alerts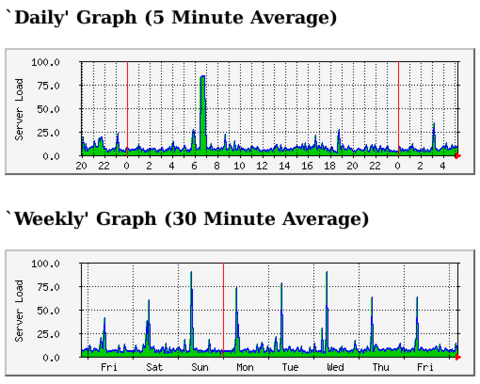 MRTG Email Notifications And Alerts
While searching the MRTG docs for some settings, I stumbled across the following option:
ThreshMinI (PER TARGET)
This is the minimum acceptable value for the Input (first) parameter. If the parameter falls below this value, the program specified in ThreshProgI will be run and a mail will be sent to the ThreshMailAddress if specified. If the value ends in '%' then the threshold is defined relative to MaxBytes.
Although my version of MRTG didn't support ThreshMailAddress, it was pretty simple to rig up a shell script to send email notifications when threshold values are reached.
Here is the MRTG config I added to notify me if the cpu usage exceeds 75% or the disks reach 95% capacity.
MRTG Email Notifications And Alerts
---

ThreshDir: /var/run/mrtg
ThreshProgI[_]: /usr/local/sbin/notify
ThreshProgOKI[_]: /usr/local/sbin/notify
ThreshMaxI[cpu]: 75
ThreshMaxI[disk1]: 95
ThreshMaxI[disk2]: 95

Make sure you create the /var/run/mrtg directory.
Here is the /usr/local/sbin/notify shell script to send the mail.

#!/bin/sh
#
# This script is executed by MRTG when threshold values are reached. It
# just sends an email notification to the logging address.
#

echo | mail -s "$1 is at $3" logging@example.com
About Roger Keays
| | |
| --- | --- |
| | Roger Keays is an artist, an engineer, and a student of life. He has no fixed address and has left footprints on 40-something different countries around the world. Roger is addicted to surfing. His other interests are music, psychology, languages, the proper use of semicolons, and finding good food. |