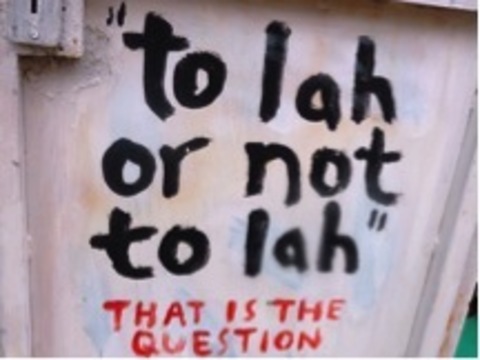 Singlish 101
One of the great things about Singapore is the expansive range of cultures, food, languages and dialects. They have large Chinese, Malay and Indian populations and their government housing plan ensures that they are mixed relatively evenly. As a result, it's hard to say exactly what language people speak colloquially in Singapore because they switch so often depending on who they are speaking to.
Here are some of my recollections of Singlish, which is pretty similar to Manglish, but with less influence from Malay and more from Chinese (especially WRT pronounciation).
Lah - An emphatic particle. If you don't hear a Singaporean say lah, you've probably been dropped off in the wrong country lah.
Syllable-final glottal stops - My next favourite feature. Apparently a corollary from Chinese which doesn't have syllable-final consonants. Because of this, Singaporeans replace these consonants with glottal stops. My personal favourite is the word 'stuck' which is pronounced /stəʔ'/ with such an emphasis on the stop it gives you a fright :) A multi-syllable example would be 'Woodlands', pronounced something like /wʊʔ.lɛn/.
Singlish 101
---
That's all for today... your trusty field linguist has exhausted himself ;)
About Roger Keays
| | |
| --- | --- |
| | Roger Keays is an artist, an engineer, and a student of life. He has no fixed address and has left footprints on 40-something different countries around the world. Roger is addicted to surfing. His other interests are music, psychology, languages, the proper use of semicolons, and finding good food. |